Cherry Bomb over two novels. I'm two thirds through the latter, and it's becoming obvious it's a much bigger story. If I do this, if my publisher is agreeable, it would add a fourth Siobhan Quinn novel, Ruby Red. It would have to be written after Dinosaurs of Mars, The Good, The Bad, and the Bird (the next Dancy series), and at least the first half of Beneath the Wide Carnivorous Sky.

I have a phone conference with my editor at Penguin on Monday to discuss this, and I should be able to tell you more Monday evening or Tuesday.

Contemplating,
Aunt Beast
I am considering dividing the story I thought could be contained by a single novel,
Current Location:

Let us just say Mars.

Current Mood:

okay

Current Music:

David Bowie, "Strangers When We Meet"
This is a big one: the typewriter on which I wrote LOST SOULS (and a bunch of other stuff), with certificate of authenticity. Winner also gets a signed/personalized hardcover first edition of
Lost Souls
. Reserve is $200.
http://cgi.ebay.com/ws/eBayISAPI.dll?ViewItem&item=121230673509


Yesterday, I finished the second fourth chapter of Cherry Bomb. I wish there were anything at all interesting to say about writing the 1,332 words I wrote yesterday.

Indeed, I'm fairly certain that, other than marking the completion of a chapter of a novel I'm very grateful to be more than half done with, there's no particular need for an entry today.

Sixes and Sevens,
Aunt Beast
Rainy today, but still warmish.
Current Location:

Eumenides Dorsum

Current Mood:

blah

Current Music:

Arcade Fire, "Here Comes the Night Time"
"Black Cat 2," acrylic on canvas, 8" x 10", $45
https://www.etsy.com/listing/171980748/original-painting-by-poppy-z-brite-black?ref=shop_home_feat
I listed a bunch of new artwork on PZBART last night, including this piece since folks seemed to like my other black cat:


A random aside/observation: clothing that is vaguely Victorian-looking, worn with a hat? Will cause people to ask you if you're "one of those steampunk types?". DEAR STEAMPUNK, THE NEO-ROMANTIC VICTORIAN GOTHS WANT OUR LONG SKIRTS, FROCK COATS, JABOTS, AND TOP HATS BACK, THANKS. But I'm consoling myself with the notion that the steampunk peeps probably get asked if they're Christmas carolers, too.


*Okay, I guess "a few years ago" is closer to five or more years ago. The passage of time once again freaks me out.
Remember the velvet military-style jacket from Newport News from a few years ago* that almost everyone had? Black velvet, princess seamed, lots of silver buttons? Yeah, guess what I'm idly looking for on eBay. Not that I'm going to buy it if I find one in my size, because I don't NEED it, and because the Infamous BlueJay is making me something very similar in wool, anyway. But yeah, that's what I'm currently browsing for.
Today we're begging the
BIG-ASS
XMAS EBAY
BLOWOUT
.
Lots of good stuff®
for the whoever who has everything – except that. Please have a look. Thank you. Currently, there's an ARC of
Pink Delicious
, so you could be the first on your block. Also, we're relisting
The Ape's Wife and Others
ARC (because the nimrod who won the auction back when never paid, the deadbeat).
Yesterday was, as planned, a day out. Yup, I should have been here banging away at these keys. But I went Outside, instead. Errands that needed running. It began with a visit to
Paper Nautilus Books
, with three boxes of books that were evicted from my office. The nice lady* there took most of them, more than two thirds, in return for $204 in credit. We will be visiting her at least twice more. I love that bookstore, the finest in Providence. And now it has a bunch of books that once belonged to me. And soon it will have more. Naturally, as soon as I've divested myself of thirty books, I used fifty dollars of the credit to get two more: John R. Casani's
The Moons of Jupiter
, plus Whybrow Hill's
Fossil Vertebrates of Arabia
. The latter is a pretty cool (and huge) volume, but the main reason I took it home as because it's been there since I first visited the shop (when it was still Myopic Books) back in 2008. It needed a home.
After the bookshop, we headed to Pawtucket, to
iolabs
. They're photographing
Michael Zulli
's paintings and sketches for the
Centipede Press
edition of
The Drowning Girl: A Memoir
. I met a very friendly dog there. The work on the images in going to cost $240.
We saw the
new bear sculpture at Brown University
. We went to Newbury Comics in Warwick, and I got the latest Arcade Fire album.
Back home, an evening of
Guild Wars 2
and left over chili, and we started watching
The Lord of the Rings
through again, on Blu-Ray, and it's even more beautiful on the new Jetsons' Space-Age TV. Now photographs:
(
Yesterday
Collapse
)
Okay. I didn't sleep but four and half hours last night, and now I have to work.
At Least Half Awake,
Aunt Beast
* A word that, inexplicably, seems to drive the Outrage Brigade slacktavists all whackadoodle. But it's a fine word I adore, so fuck 'em (again).
Rainy today. yesterday turned into a rather pleasant day, weather wise. The sun came out. The sky was even kindly. Presently, it's 48˚F, but, oddly, it feels like – "they" say – 54˚F.
Current Location:

Cerberus Fossae

Current Mood:

Yeah, yeah, yeah

Current Music:

Neko Case, "Night Still Calls"
this review on GoodReads
, and I am actually only posting it here because it contains
ad hominem
attacks – which I'm
fairly
certain are not permitted at GoodReads – and also manages to insult GLBT persons and pretty much everyone at Readercon 23 .
Verily, I an obnoxious, overly-serious, touchy, judgmental goth contradiction:
(
Whee!
Collapse
)
Yep. This guy's a winner. I've reported the review, which I would not have done had it stuck to discussing the novel, no matter how much he hated it. By the way, please note that I have never seen the reviewer in Providence: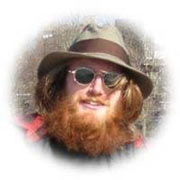 ...so he probably doesn't actually live here.
Overly Serious,
Aunt Beast
Okay, so someone sent me a link to
Current Mood:

half amused, half annoyed
Yesterday, I wrote 1,045 words on
Cherry Bomb
. I just want this book to be finished. I need to move on. I need to write something I want to write. Which means writing
The Dinosaurs of Mars
and
Beneath the Wide Carnivorous Sky
(and assembling the second "best of" volume for subpress on the HPL volume for Centipede Press).
---
For the first time in seventeen years, I have a new television. Spooky's parents got a new one, and her mom kindly brought us their old one. Back in 1996, not long after my writing started selling and I started making decent money, sometime after I got the DC/Vertigo job, I went to the Circuit City in Athens, Georgia and bought a 27" Sony TV. And I've had it ever since. And, for that matter, it still works just fine, as long as you don't want cable (which I don't). But now it's sitting in the hallway, on the second-floor landing. We're asking around to see if anyone wants it. Anyway, the new TV, it's one of those high-def, wide-screen, digital, sci-fi Jetson's Toshiba model whatever. And the picture is fucking amazing. Last night we watched Ridley Scott's
Prometheus
(2012), which I'd sworn I wasn't going to allow myself to see again until we had a better television. Someone had sent me the film on Blu-Ray, but we waited, regardless. And fuck, it's beautiful. Possibly, the film's more beautiful on that television than it was in the theater.
So, yeah. New television. Which feels very weird.
As for
Prometheus
, my opinion of it remains unchanged. It's a brilliant thing. There are scenes I could stare at for hours. Michael Fassbender is a joy to behold, and David is the most perfectly realized android of the entire
Alien
cycle. Also, we watched a series of deleted, extended, and alternate scenes. It was a case where the inclusion of most of them would have made the film better. In this instance, there would have been more depth of character and the pacing would had been slowed a bit. Both would have improved the film. But they also would have added about twenty minutes to the film, which likely would have cost exhibitors one showing a day. And it might sound like a shitty reason for changing the shape of a film, but that's the sort of problem that rules the shape of art for mass consumption – including my own novels and short-story collections. With a film like
Prometheus
, a film with a budget estimated at between 120 and 130 million dollars, the studio's going to put the needs of the theater chains over the desires of the director pretty much every time. Hell, the studios will do it with a film that costs one third that much. I would have liked, perhaps, to have seen an alternate cut, but Scott may have felt that he was happy enough with the final version that there was no need for a "director's cut." After the absurd number of alternate versions of
Blade Runner
(1982), that would be entirely understandable. Especially when the film as it stands is such a stunning achievement.
As for the naysayers and the too-cool-for-schoolers, it's their loss. I will say that I think at least a portion of the public's negative reaction to the film arises from a fundamental misunderstanding of what
Prometheus
is and isn't. It
is
cosmic horrid, but unlike the brand we were given in
Alien
(1978), where unsuspecting space travelers encounter a horrific creature, this is a film that deals with a far more terrible cosmic horror. And here I mean horror in its truest sense, as distinct from terror.
Prometheus
is not, I think a "scary movie." It is, instead, a film that tells us the "gods" who created us believe they've fucked up, and now they're out to erase us. Shaw and Halloway find their engineers, complete their quest for the divine (even if the divine is, turns out, non-supernatural), and all they get in return is disillusionment, death, and a desperate battle to stop the end of life on Earth. The film is replete with layers upon layers of symbolism and subtext,
James George Frazer
, Jung and Joseph Campbell, even Charles Fort. Unlike
Alien
, it takes work to fully comprehend. And if all you want is a scary movie. or a ripping good space yarn, you will be disappointed.
We also watched the latest episode of
The Walking Dead
, and it actually managed to best the horrors of "Beside the Dying Fire" (Season Two, Episode Thirteen). The series remains one of the very best things, by far, out there in TV Land.
And I ought to go. In theory, I'm writing today. And I have page proofs...
Arms Folded Tight,
Aunt Beast
I seem determined to fall behind today, to screw up this thing I laughingly call a schedule. Lately, distraction is coming far too easily. My mind is so willing to go anywhere at half an instant's notice. The shriveled crusts of leaves outside my office window, for example. Here in Providence it's 43˚F and sunny.
Current Location:

Copernicus Crater

Current Mood:

okay

Current Music:

Arcade Fire, "Month of May"